The Peoria Area Mountain Bike Association - Welcome!
Written by Tim McGrath
Monday, November 18 2013 20:35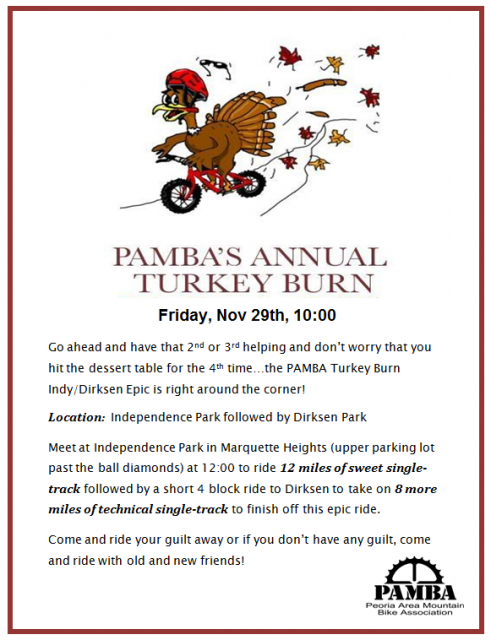 Join us for the annual Turkey Burn group ride! Black Friday, 10AM, Indy trail. We will use Saturday as a backup date should we need to. We also need a couple ride leaders to step up. The group is usually very large, so it would help to split it into smaller groups of differing speeds. If you would consider leading a group, shout it out!
Written by Tim McGrath
Tuesday, September 24 2013 19:26
Meet the 2013 Illinois State Champions!
Congratulations!!
PAMBA would like to extend a sincere THANK YOU to all the volunteers, partner clubs, our sponsors,
and especially the racers for making this the largest and most successful state wide series yet!
We hope to see you all back next year!
Last Updated on Tuesday, September 24 2013 19:28
Written by Tim McGrath
Monday, March 18 2013 06:43
FARMDALE FESTIVAL 411!

Friday (Sep 20th):
Friday afternoon, the DH and XC course will be marked and ready for pre-riding.

Campground opens at 5:00. Be sure to stop and pay your $5 camping fee at registration. *Sorry but no ground fires. We will have a community fire but if you have a free standing fire pit, you are welcome to bring it to use.

Friday evening, night ride at dark. Meet up around the main tent at 7:00.

Saturday (Sep 21st):
Registration opens at 8:00 and closes at 9:30 for the DH race.
Mandatory riders meeting at 9:45 at the DH start area.
Novice starts at 10:00, Advanced starts at 10:30 or after the Novice is complete
There will be limited shuttles to the DH starting at 9:00 until 9:30.
2:00 Kids & beginners ride! (no drop)
Festival games begin at 4:00 with prizes!
*Derby races
*Huffy toss
*Bunny hop contest

Movies under the stars start at dark
Sunday (Sep 22nd):
Registration opens at 8:00
XC racing at normal times
IHRS/USA Cycling Championship awards after racing!

Click here to register online!
Race Times (Sunday Sep 22nd):
Novice Men: 10:00
Women & Juniors: 10:05
NEW!! Fatbike division 10:06!
Kid's Race: 11:30
Expert Men & Women: 12:00
Sport Men & Women: 12:05

Kids Race: Kids also race for prizes! (Registration is still required for kids races, but kids race FREE.)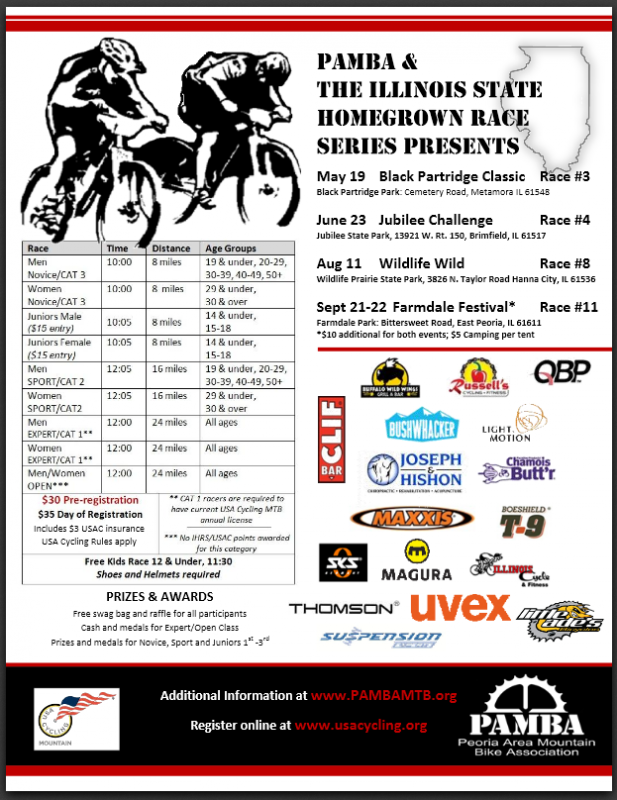 Race Map:

Last Updated on Sunday, September 15 2013 08:36
«

Start

Prev

1

23456789NextEnd »
page 1 of 9